Every year, new BASIS.ed teachers descend upon the desert for an intense, week-long training session designed to be the first stop on their journey towards becoming BASIS Independent classroom champions.
Ali, one of our administrators was lucky enough to attend this year. In the first part of this two-part series, she shares her fly-on-the-wall perspective of what it means to prepare to teach in one of the highest performing school networks in the world. She writes:
Imagine a room filled with 600* of the country's brightest – and most promising – minds in the Education field. Many have been teaching for years in college preparatory or university settings, some are leaping into a new career, leaving a research lab or corporate job, while others are finishing their degrees, poised to set foot on the other side of the classroom for the first time.
Regardless of the path BASIS.ed teachers took to arrive at the training that took place at BASIS Ahwatukee in Arizona in late July, they all had to partake in a rigorous hiring process in order to demonstrate not only mastery over their subject material, but the ability to break it down, communicate passionately to young minds, and inspire students to love all disciplines.
As the first day of training kicked off, the air in the auditorium awaiting opening remarks was thick with a frenetic energy that can only be described as uniquely "BASIS." Sitting in the room with our teachers, whether it is at a training before they've become "BASIS teachers" – like this scenario – or in their classroom as a student, there's a feeling that you're on the brink of something big – a game-changing way of looking at something, of thinking about what it means to learn, or thinking about the sheer possibility of what can happen when you're in a space where no idea is a bad one.
"We hired you because you are the best, or, we know you can be the best."
– Peter Bezanson, CEO of BASIS.ed
In one of the daily morning sessions led by BASIS.ed senior management, BASIS.ed CEO Peter Bezanson so perfectly captured not only the theme of training, but an essential truth about the BASIS.ed culture. He shared, "we hired you because you are the best, or, we know you can be the best." Anyone who has ever stepped foot into a BASIS Independent school knows that there is an unflinching confidence in every student to succeed, a belief in elevating each individual to become the best version of themselves. That cultural truth starts with our teachers; it is at this training that teachers are given the introduction to the support and training at their fingertips so they can successfully pass on subject knowledge and a solid sense of self-confidence to their students.
Following each daily morning session were seemingly limitless opportunities for teachers to attend a range of classes and workshops – covering everything from classroom management, differentiated instruction, anti-bullying, to mind-mapping and the active classroom. Teachers also spent hours with their Subject Advisors (SADs) who act as their go-to support for matters related to their subject, and a daily session collaborating with their Head of School.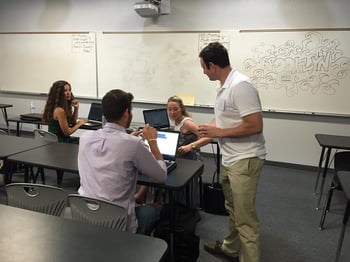 "Teacher training is like having a brainstorm with really experienced educators about how to manage the BASIS.ed classroom"
–Incoming teacher, Overheard at Teacher Training
During one of the many opportunities teachers are given to socialize and build rapport, I sat with a few BASIS Independent Silicon Valley teachers as they reflected on the training. Here is what they had to say:
"I came in to training excited, but now I am really excited. It feels like a family – everyone is so supportive, welcoming, and wants you to be the best teacher you can be." – Scott Patteson – Drama Teaching Fellow, BASIS Independent Silicon Valley
"I am a Dean-in-training, so this is my second year at Teacher Training. One of the best things that is reinforced at Teacher Training is the sharing of resources. Here we connect with all of the teachers in our discipline from all the other BASIS.ed schools. It really is all about community – if there is something that works in another classroom for someone, you learn that it's encouraged to spread those ideas." – Han Lee – Dean of Students for 8th and 9th grade, BASIS Independent Silicon Valley
"I just graduated from Stanford and have never taught before, so everything was really helpful to me. Watching demo lessons from seasoned teachers and being in their workshops was inspiring. I want to emulate their energy in my classroom." – Andrew Nguyen – General Teaching Fellow, BASIS Independent Silicon Valley
To experience Teacher Training as an outsider was to fully realize that becoming a BASIS.ed teacher doesn't happen overnight by design. What they leave training with – aside from solid experience and understanding of the BASIS.ed classroom — is the knowledge that they have the tools and freedom to succeed as educators. And just like their students, succeed, they do.
Latest posts by BASISVectors
(see all)